HealthBook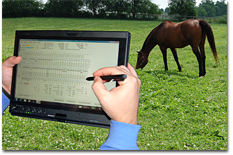 The HealthBookTM is available as a module for the Horse Farm Management Software. It enables you to use a Tablet PC with its specially designed tablet pen to quickly and easily record any procedure in the barn, shed row or anywhere on the farm or at the race track.
Overview Brochure
The system allows customers to:
Record important horse information anywhere.
Access comprehensive health history in the field.
Eliminate duplicate work in the office through a seamless upload of information recorded in the Tablet PC to our Horse Farm Management System
Interested in this program?

If you would like additional information, or want to receive an evaluation copy, please
Contact Us
Tablet PC Minimum Requirements
All Microsoft supported Windows OS with TOUCH Support
Minimum Intel® or AMD processor* (Atom not supported)
4GB of RAM
40GB hard drive
800x600 or hight monitor resolution
*
PC's with the Intel®Atom Processor are NOT recommended